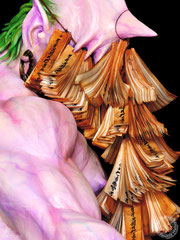 In the new work "DEBRIS JAPAN - Statue version", I tried to express a sense of Japanese spirituality that has been come down since ancient times, blending my experience & style as a prototype figure sculptor.
Though the concept of figure culture is emphasized the partial aspects of deluging stereotypical resin characters and mass-produced figures lately, I believe it will gradually turn into a new medium that is able to express artist's spiritual world-view.
When I start to create new work, I'm trying not to be too fixed on the idea of figure culture. But now, Hobby & Character culture in Japan are growing faster uniquely and, I have grown up and lived in such a environment since childhood. So, those way of expression that is either adversely or positively affected by diverse Japanese culture are very natural for me.
Regardless of figure culture, what I seriously feel these days is that the correlation bettween "material world" and "spiritual world" are becoming fuzzy. I think our world is flooded with "Thing" and, modern people who depends more and more on convenience tend to be hard to find value in spiritual part routinely. (In this case, "spiritual part" doesn't mean the concept of material itself but a sense of spiritualness. : KIGAN (prayer), NOROI (curse), KUYOU (to hold a service for a departed soul) to name a few in Japanese custom.)
For example, ancient sculptors of Buddha statues had a unique style of putting spiritualness into material object under the spiritual ideas. Those statues were chiefly made of wood at that time and, there were many levels ranging from one-of a kind to metal mold casting. There were surely spiritual values in common and ancient people have lived with "spiritual world" on a routine basis.
However, I'm not too conscious of those spiritual element in my works. I always try to make something new that is mixed "material world" and "spiritual world" by means of my interpretation & expression.

| | |
| --- | --- |
| Style | Original Art Statue |
| Characters name | DEBRIS JAPAN - Statue version |
| Size (total) | h1610 x w440 x d730 (mm)   (h63.4" x w17.3" x d28.7") |
| Size (statue) | h910 x w430 x d430 (mm)     (h35.8" x w16.9" x d16.9") |
| Material (statue)  | stone powder clay(PREMIER) |
| Accessories | knife (cast resin) / charm (paper) / fundoshi : Japanese underwear (cloth) / foundation (wood) / grains (metal,wood,cast resin) |