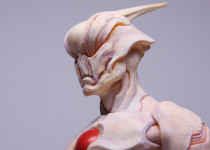 [Concept]
belief, personality, return of love
[the image of sculpture]
I produced the sculpture totally Japan-conscious & imaging line of carp and japanese bush warbler spreading wings in the back & Kikko Shibari (bondage in a testudinal form.) , plus which also incorporated the image of our bright future.
[World-view of NEO JAPAN]
In 20XX, There was an epidemic called "Zombing" at third tokyo-tachikawa area in Japan. Japanese goverment experienced an unknown phenomenon that all of the people begin to become identical faces and lose their individuality. Common point among people who infected with the disease was that it was only modern poeple who have depended on convenient "STUFF" which some company churned out.
About Six months before "Zombing" become epidemic, Scientist Dr.K has spent many years studying to clarify the truth of universe.  He thought that solution of a human brain leads to solution of cosmic question, and Dr.K did an experiment on a human body. But it was failed and contributed to the creation of a monster, and suddenly the monster started to destroy the experiment facility and ran away.
Dr.K barely managed to survive and sought the whereabouts of the monster. Then He found out that the monster was manipulated by a company that caused "Zombing", and he decided to start to develop a new weapon against the monster.
Around the same time, the main character, Mr. Motofumi Okada was suddenly attacked and killed by the monster on his way from a toy store. After Dr.K retrieved Motofumi's dead body, he altered and revived it to eliminate a company that is the source of the monster.
Mr.Okada was reincarnated as "NEO JAPAN", and threw down the gauntlet against the monster to take revenge for a precious toy which has been crushed down. But he didn't know there was a tremendous secret plan behind this yet.
"Are you fucking Zombie?"
This is a surreal & hot story to hold a warning for modern people who are stuff-dependent and characterless.

| | |
| --- | --- |
| Style | Original Sculpture |
| Characters name | NEO JAPAN (real name : Motofumi Okada 56yrs) |
| Personality | a man of deep humanity |
| Favorite phrase | "Eat me." , clicking |
| Hobby | booze , blue jokes , woman , photograph |