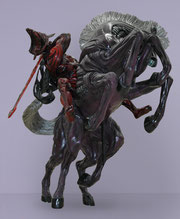 A horse went upward smoothly with a kick that deserves many times longer than common-sense flight against gravitational force. The monster that looks the shape of gentleman was barking in the light of the moon.
He was holding a sword that repeats explosion forever in one hand. There is a power we can't see, a energy that consists of diverse shapes.
ODIN was wielding a sword as the symbol of power.
The decision was given unilaterally...

| | |
| --- | --- |
| Style | Original Art Statue |
| Characters name | ODIN with SLEIPNIR |
| Size | 4000×1500×2400 (mm) |
| The background of work | I just wanted to sculpt something so big & overwhelming & cool at the exhibition when i was junior year. |