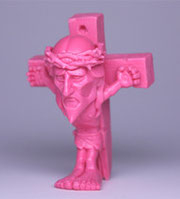 It's not an exaggeration to say that we are now at a point where almost everything we need are at our fingertips in this information society. People today who increasingly depend on convenience are forgetting to ask themselves the necessity of material, forget to believe at last...
I'm not aware of religious message to "COMPASS". I just settled on the subject matter of probably the most famous image in the world.
He is NOT THAT GUY but only human. Only human who tried to play God and came to nothing. Bearing a burden in providence of life, He lives in the present.
I hope that wearing this item gives new meaning to you as a person living with self-belief , doubt against this world and a propensity to stick to your ways.

| | |
| --- | --- |
| Style | Original figure & Accessory |
| Content | Ring+Key ring / Pendant + Toy |
| Color | 7colors (black/gold/red/purple/green/yellow/pink) |
| Specific | Ring bore:18mm / Cross:72×51×15mm / Toy:59×46×29mm |
| Material | Plastic |
| Price | 3,150yen [including tax] |
| Notes | Online Shopping » |