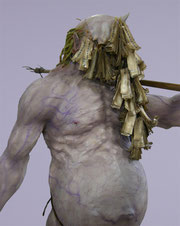 Sound of the bell is audible from a distance. 
Death that rode in the cloud made of wood gathered another soul. It's just jet-black night with no wind.
The smell of God that turned out burnt residue won't go away from Death. Death won't take lives with its own hands.
We need to live with a view to death.
Because we don't know what's around the corner.
What lies beyond death is ultimate termination that prod everyone into life.

| | |
| --- | --- |
| Style | Original Art Statue |
| Characters name | ONI |
| Size | 500×200×300 (mm) |
| The background of work | The image of absolute Reaper made me sculpt like this... The atmosphere of Classic Japan always makes me feel indescribable & distinctive. |